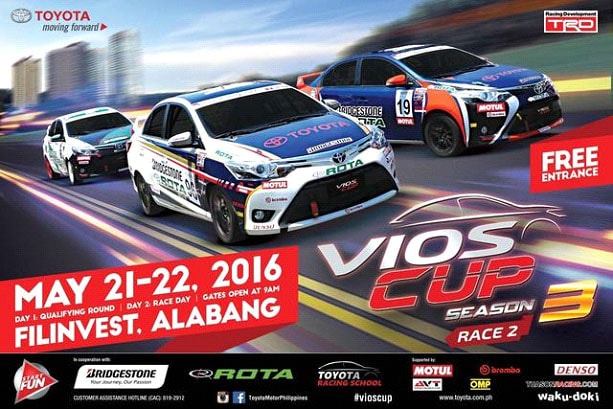 "REEVE to be featured in Vios Cup Racing Event"
Since 1976, Rota wheels has been a pioneer for light weighted high quality wheels. With great vision for innovation, PAWI (Philippine Aluminum Wheels Inc.), have been developing over 200 active designs and counting for its customers. From available sizes of 15 to 20, from its varieties of designs like IK-F; IK-R; SLIPSTREAMS and so on, Rota launch its new original model called "Reeve" or also known as "Vios Cup" in late 2015 which is available in size 15 and recently in size 18. It is mostly use for Vios Cup cars, but became more famous when it was use for Vios Cup Racing Event. Vios Cup is a racing event organized by the Toyota Motor Philippines participated by professional racers and famous celebrities and fortunately Rota Wheels has been a major sponsor since the events started in 2014. Once again, "Reeve" mags will be featured for this upcoming Vios Cup Race 3 this September 9-11 to be held in Clark, Pampanga.
Photo: Official poster for Vios Cup Race 2 last May 2016.